Why Get Pre-Qualified?
1. Pre-qualification acts as a dry run of the loan application process. The mortgage lender will use details you provide about your credit, income, assets and debts to arrive at an estimate of how much mortgage you can afford. The whole process may take only minutes or a few hours at most, and is free.
2. While a "pre-qual" is non-binding to the lender (because the information you provide has not been verified), it does serve as a good indication to potential sellers of your general creditworthiness.
3. These days most sellers will NOT accept an offer without at least a pre-approval letter, so if you are serious about buying this is the first step towards getting you in your new home.
---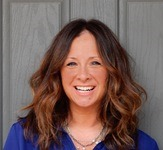 Christine Williamson
NMLS# 121612
(503) 550-1919
As a dedicated and experienced mortgage professional, my goal is to assist as many homeowners as possible reach their dream of home ownership. Our company doesn't simply offer some of the most competitive rates in the mortgage industry; we provide impeccable service from start to close. As an Envoy Loan Officer, I can provide borrowers with a hassle-free experience via the most technologically-advanced tools available, including electronic signatures (eSign by Envoy), digital documents, an online application process, secure online loan status updates (24/7), a fully electronic closing and most importantly, around the clock attention to your loan. Contact me today to learn more and to see what I can do for you.
---